QR code Generator
Generate simple & advanced QR codes. Easy, customizable & trackable.
Unlimited scans of all your QR codes.
Create, manage and track dynamic QR codes
Discover the many possibilities of our QR manager and QR code generator.
Try our dynamic QR code generator free for 14 days now.
1 - Design a QR Code
With the generator, you can create a QR code that links to a destination page, your contact information, your social networks, a video on YouTube or any other destination.
2 - Use the QR code in your campaign
Place the QR code on a product, a print ad (flyer), in your store, there are so many ways to promote a QR code. Customers can scan the QR code with their smartphones and directly access the destination link.
3 - Realtime results
View real-time results of all your campaigns. Assign each QR code to a campaign, a physical location and compare its effectiveness . Thanks to our API, you can integrate mijnQRcode.com with your analytics tool or even link QR codes to a Google Analytics account.
Static QR codes (FREE)
Static QR codes are generated once and cannot be changed afterwards, all data is stored directly in the QR code. Through mijnQRcode.com you can generate an unlimited number of static QR codes for free. You can choose to print the QR codes or download them in different formats. Static QR codes are for life and can be used unlimitedly. Tip! Create an account on mijnQRcode.com, you will immediately have the possibility to create 11 different static QR-code types.

Try mijnQRcode.com for free!
Fully customizable

No scan limit

No data saved on our servers
Dynamic QR codes
Generate a dynamic QR code and link the code to any website. Change the target URL of a dynamic QR code at any time without reprinting the QR code. Dynamic QR codes offer many more possibilities than static QR codes.

Try now for free for 14 days!
Advanced scan statistics

Change URL destination dynamically

Scheduling, expiration limits, A/B Rotation

Password protection

Country, device & language re-targeting
Additional options for Dynamic QR codes
The options below are only available if you subscribe to dynamic QR codes.
You get 13 built-in QR code templates to get you started right away.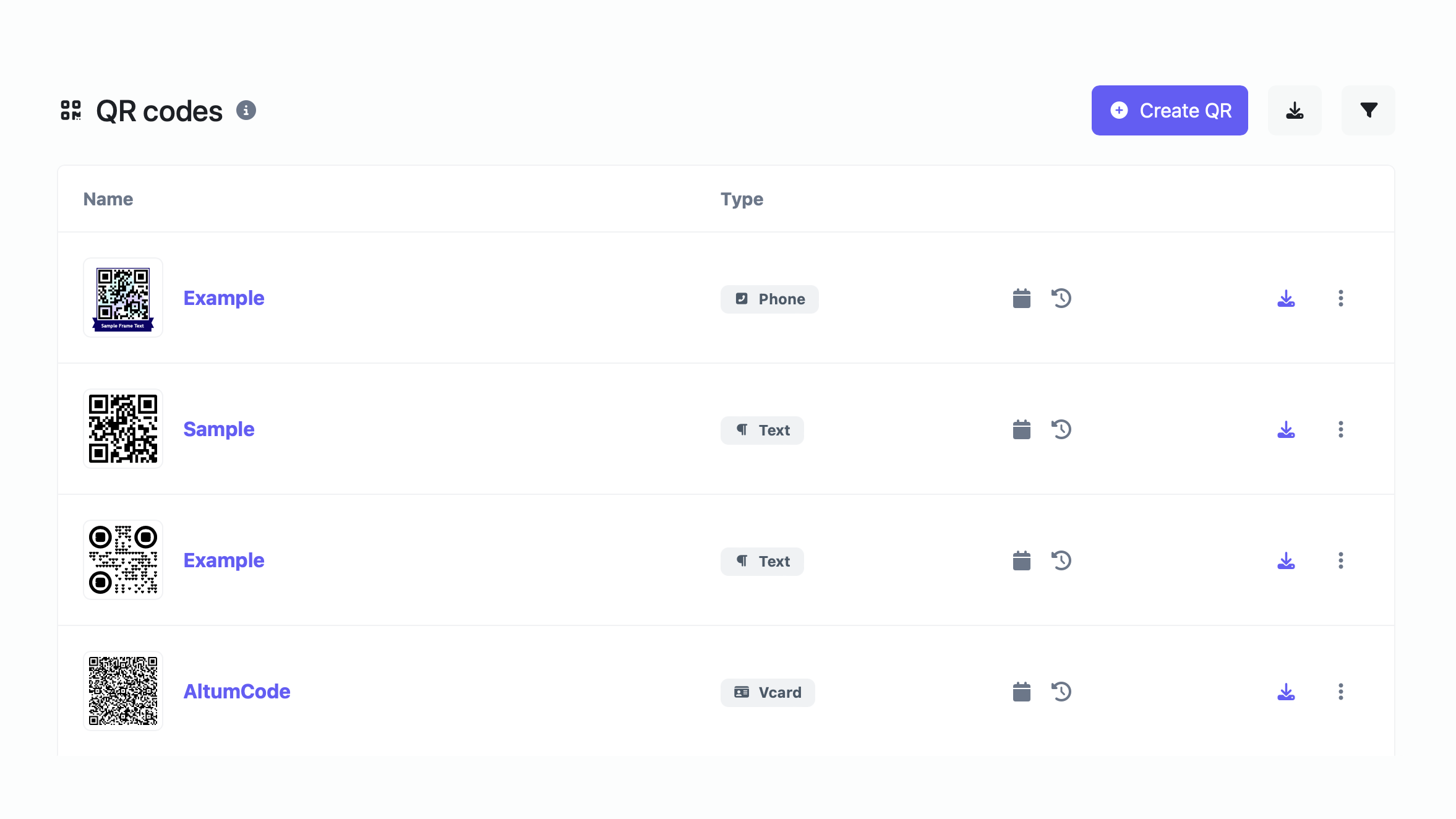 We do not store any data of your created QR codes, except the ones that you save in your account willingly.
Create the QR code you need, brand it with your own colors & logo.
Facebook, Google Analytics, Google Tag Manager, LinkedIn, Pinterest, Twitter, Quora, TikTok tracking pixels available.
Easiest way to categorize your managed resources.
Connect your own domain or use our predefined ones.
QR code types
A large array of QR code templates to choose from and get started.
Get started
Now create static or dynamic QR codes with colors, logos or frames quickly and easily.