QR code Generator
Generate simple & advanced QR codes.
Easy, customizable & trackable.
Unlimited scans of all your QR codes.
Static QR codes
Static QR codes are generated once and cannot be changed afterwards, all data are stored directly in the QR code. Static QR codes can be used for life and without limitation. As with dynamic QR codes you can generate with static QR codes 11 different types of QR codes.

Discover the possibilities with the FREE QR code generator .
Fully customizable

No scan limit

No data saved on our servers
Dynamic QR codes
Maak een dynamische QR code en koppel de code aan een willekeurige website. Wijzig de doel-URL van een dynamische QR-code op elk moment zonder de QR code opnieuw af te drukken. Dynamische QR codes bieden veel meer mogelijkheden dan statische QR codes.

Klaar om 14 dagen gratis te proberen?
Advanced scan statistics

Change URL destination dynamically

Scheduling, expiration limits, A/B Rotation

Password protection

Country, device & language re-targeting
1 - Design a QR Code
With the generator, you can create a QR code that links to a destination page, your contact information, your social networks, a video on YouTube or any other destination.
2 - Use the QR code in your campaign
Place the QR code on a product, a print ad (flyer), in your store, there are so many ways to promote a QR code. Customers can scan the QR code with their smartphones and directly access the destination link.
3 - Realtime results
View real-time results of all your campaigns. Assign each QR code to a campaign, a physical location and compare its effectiveness . Thanks to our API, you can integrate mijnQRcode.com with your analytics tool or even link QR codes to a Google Analytics account.
Additional options for Dynamic QR codes
The options below are only available if you subscribe to dynamic QR codes.
You get 13 built-in QR code templates, which you can start working with right away for a nice and good looking QR code.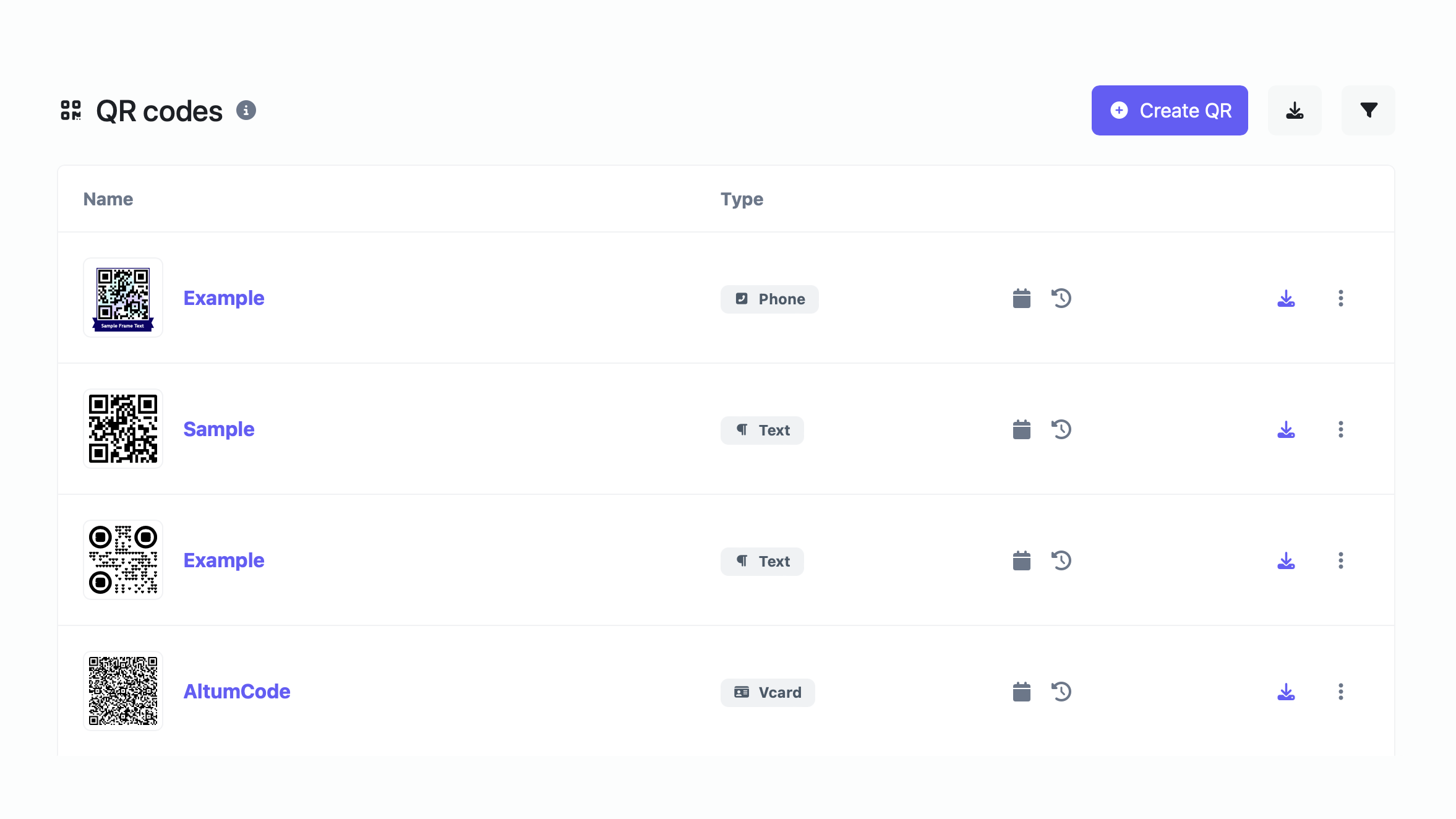 We do not store any data of your created QR codes, except the ones that you save in your account willingly.
Create the QR code you need, brand it with your own colors & logo.
Facebook, Google Analytics, Google Tag Manager, LinkedIn, Pinterest, Twitter, Quora, TikTok tracking pixels available.
Easiest way to categorize your managed resources.
Connect your own domain or use our predefined ones.
Different types of QR codes
A large number of QR code templates to choose from to get started.
Get started
Quickly and easily create static or dynamic QR codes with colors, logos or frames.
What is QR code ?
A QR Code is a matrix code (two-dimenisional bar code) created by Japanese corporation Denso-Wave in 1994. The "QR" is derived from "Quick Response", as the creator intended the code to allow its contents to be decoded at high speed. QR Codes are most common in Japan, and are currently the most popular type of two dimensional code in Japan. Although initially used for tracking parts in vehicle manufacturing, QR Codes are now used for inventory management in a wide variety of industries. More recently, the inclusion of QR Code reading software on camera phones in Japan has led to a wide variety of new, consumer-oriented applications, aimed at relieving the user of the tedious task of entering data into their mobile phone. QR Codes storing addresses and URLs are becoming increasingly common in magazines and advertisements in Japan. The addition of QR Codes on business cards is also becoming common, greatly simplifying the task of entering the personal details of a new acquaintance into the address book of ones mobile phone. The Japanese standard for QR Codes, JIS X 0510, was released in January of 1999, and a corresponding ISO International Standard, ISO/IEC18004, was approved in June of 2000.
How can I use QR codes ?
Although entering information into your smart phone is now very simplified, sometimes it can be a tedious or we just do not have time to lose doing it. This is where QR codes come us to the aid. You can encode almost everything: web addresses, phone numbers, SMS messages, mobile phone contacts in vCard format or plain text. To be able to read it, you need to have QR code reader application installed on your smart phone which is using phone camera to scan the QR code. It will decode it and show you the information hiding behind the QR code for further use (visit website page, phone dialing, sending SMS, enter contacts, etc.). Marketing experts have recognized the great possibilities and potential of QR codes and they started using them in their campaigns in magazines, on billboards, TV commercials. Feel free to try our QR code generator, Create your own QR codes and use them on the website, in advertisements or at an event. Login with QR codes: When you log in, Google sometimes takes extra steps to verify its you, also you can share pages using a QR code. You can create a QR code (quick response) to share a page from Chrome.
QR code data capacity
Numeric characters - maximum 7089
Alphanumeric characters - maximum 4296
Binary (8 bits) - maximum 2953 bytes
Kanji/Kana characters - maximum 1817
QR code error correction capacity (ECC level)
Level L - 7% of codewords can be restored
Level M - 15% of codewords can be restored
Level Q - 25% of codewords can be restored
Level H - 30% of codewords can be restored